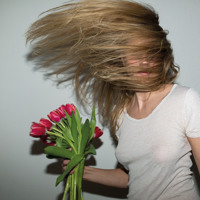 ORGAN THING OF THE DAY: New CAMILLA SPARKSSS single, CAN? An exercise in transplanting street art…
Another thing? A thing in a bus for a bus. all coming at once, don't be precious people, CAMILLA SPARKSSS has a new single…. We've told you about her before, she's from excellent Swiss-Canadian band PETER KERNEL, this is her alter-ego, or is Barbera, the singer in the band known as Peter Kernel, Camiilla's alter ego?
Camilla Sparksss — Precious People
The 7″ vinyl 
Since her first 7″ I'll teach you to hunt (listen), released January 7th, 2013 for On the Camper Records, and after a series of explosive concerts across Europe, Camilla Sparksss (aka Barbara from Swiss-Canadian band Peter Kernel) is back with a new 7″ mastered by Simon Davey (Justice, Daft Punk, The Kills, …) called Precious People (see cover above).

On side A, Precious People vomits a caribbean drum over a synthetic arpeggio that becomes more and more hypnotic until it explodes; a wall of heavy dub as if it were a metal band playing.
On side B, You are awesome shows her love for minimalism. Just kick, voice and a fake guitar roaring around. Then the song take off with guitar solos and dramatic synth chords on a dance ground.
Here, hear both sides here…
Web Utilities 
Artist www.camillasparksss.com
Label www.onthecamperrecords.com
 Extra 
>>> Watch her playing live Precious People *
>>> Watch her playing live You Are Awesome
>>> Watch her playing live Europe (unreleased song) *
Peter Kernel — Anthem of Hearts
CAN? at CULTIVATE: A STREET ART FLAVOURED FIRST THURSDAY THREE WEEK GROUP SHOW…  
CAN? An exercise in transplanting the art of the street, and the strands of street art's associated culture, in to the gallery environment, especially the slightly alien Vyner Street environment, our not so alien, rather uniquely positioned, corner space and our ever open street-level front door.
This time we intend filling our (almost on the street) gallery with art that's flavoured by the influences of the street, made with the street's (now traditional?) media – with the narks made with spray cans, the creative use of stencils, the notions of print, pop art, sticker art and such, Can? will partly be about questioning what street art is, questioning if it should be in the gallery by placing it in (and around) a gallery that is very much on a street and just one step off the pavement through an open door. 
Street art culture, graphic flavours, spray can marks, stencil work, sticker art, contemporary pop art, recycled and maybe even the strange notion of a paibt brush or two? Can we?  
CAN? A busy gallery show at Cultivate, Vyner Street, Opening First Thursday, May 2nd and running until May 21st    
Watch this space for names, more announcements later, expect the CanMan, an exclamation mark or two…