xx Things you say? Things! Not today, no time for no things, places to be, black things to hand down Vyner Street, we are out out and double busy… here's some more new CLIPPING via Impose magazine and Deathbomb and the forces of late night internet while exclamations dry….
We'll let the good people over at the ever good record label  that is DEATHBOMB ARC do the Thing today….
Hello Deathbomb Friends!
Even I haven't heard the entire debut album that Clipping. is gonna drop next week. So these tracks they've been sharing have been very exciting for me! Today they've shared what they say is the "hit" from the album, a track called "Bout That". Impose Magazine was kind enough to debut it. They also have some pretty astute words to say about it, about it's relationship to being regional Los Angeles music:
On "Bout That" Clipping is Daveed Diggs exercising the rap demons from his skull with all the frustrations of the city delivered in steady rapid fire. It's not an endorsement of "that life", but it ain't knocking the hustle. Where Rat King is built from the haunted past of no wave New York, Clipping seeks a similar kinship in LA's lingering, but often under-appreciated noise scene. With "Bout That" functioning as a single, the raucous is in hibernation, but based on the bleeding pulse in the teaser video, it sounds as though Clipping has a deafening side.
To hear this new track, and read more, hop on over to Impose.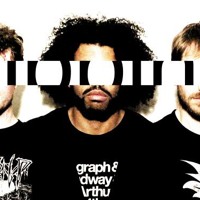 In 2009 we released  a cassette by LA's Puppy Dog that would end up being their only release. Despite the short lifespan, the band was so distinct and powerful in their subdued sort of way, this release has remained one of my favorite hidden gems in the Deathbomb catalog. A no-electricity pop band, using just a couple drums, xylophone, and voice, the trio of ladies known as Puppy Dog had both the comfortable bedroom quality of 90s K records bands, but could project themselves as a huge force thanks to passionate performances and singer, Dana's, soulful voice. A voice that has always struck me as in the same spirit of one of my favorite acts of all time, The Exciters.
Today I am very excited to announce that this wonderful cassette is available as a free download via our bandcamp page. This version includes a bonus track never before released! So, please, discover the fun that was Puppy Dog! And also be sure to check out Dana's current band, Batwings Catwings!
Enjoy everyone! Next time: THE NEW CLIPPING ALBUM!!! FOR FREE!!!!Hello Deathbomb Friends!