ORGAN THING OF THE DAY…. Things, let's have some things.
Hush that biscuit mouth, let them eat things, pass the cake, about time we had some words, a little more than a soundbite if you know what I mean? Just made the most godawful cup of instant coffee,  how foes that happen? Do you need actually reviews now? No you don't, I know mist of England always needs permission, opinions forming, you don't tnough do you?
Thing is BISCUIT MOUTH…
"Hello there, you guys wrote a lovely review of 'Grande Duke' a year or so ago, this is a new project and a new release we'd like to submit for review if possible?"  We really don't need to now though do we? No, here it is, write your own review while I drink this cup if hell-sludge that calls itself coffee. 
That was sad news to hear about Chrissy Amphlett, those Divinyls were such a fine band, you should touch yourself in celebration of a fine life and some glorious pop songs. Surely that Grande Duke album was a lot longer than a year ago? We packed in all that reviewing things lark way more than a year ago now surely? Still get people sending us CDs and then  angry mails about us not reviewing said CDs, stop posring us snail mail CDs and such, those days are long done with  
You don't need a review of the new BISCUIT MOUTH album do you? Here it is, write you own review, go joust with the spiky alt.rock Shellacness and the rightly-wound Albini attitudes, and it is about an attitude, no, not all about attitude, those tight taught wired lines, that on your toes in your face energy… here it is, who needs reviews…
ARTIST: Biscuit Mouth. ALBUM: Captain Gregs, Wrapped in Legs. LABEL: Self released.  FORMAT: Pay what you like / free digital download at http://biscuitmouth.bandcamp.com . Cassette release on Precious Metal (London/Brighton) forthcoming.
Promo spiel:Biscuit Mouth are a two piece from Derby. This debut offering features eight roomy tracks of pounding rhythms, rolling bass lines and scratchy,  guitar breaks and howling vocals. I could give a list of bands they sound a bit like, but I won't. Although a two piece, using skilful DIY skills (OK, using a drill and some old bass hardware) they have put bass strings on guitars (OK, they have ruined some perfectly good guitars, don't tell Leo Fender) in order to allow a full spectrum of frequencies to be heard in the music. Sean used to play in Grande Duke, Tim used to play in The Atoms.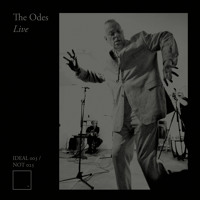 and here's some more things, let's have some more things  Some BLURT or some TED MILTON or something like that…
IDEAL 003/NOT 025 is a series of existential nightmares, released in alliance with Not Applicable and strictly limited to 100 tapes and available through all major digital channels. Available for pre-order now from: newideals.bigcartel.com/product/the-o…s-live-c45-lp
Thing is, CLIPPING made a new film, or someone made a twenty film about Clipping, or someone made a film about someone, Patrick Kennelly.made the film….
"While the reception to clipping.'s debut album 'midcity' has been exceptional, most still have not gotten the chance to see the band live. How does such an extreme, yet calculated combination of rap and harsh noise exactly come across live? Well, besides a series of clipping. tours beginning this May, people can now find out via a 20 min live film just dropped by director Patrick Kennelly. It was filmed on a half dozen cameras, and edited to feel much like the dissonance of the clipping. album (including the use of literally smashing a vhs player with a hammer during playback to get distortion effects from the footage). The performance is austere, letting the sounds build in energy over the course of the performance. In the noise world they call it a slow burner. A performance that lures you in, making you think everything is safe. But before you realize it, the chaos has begun".
Clipping. live at lot1 cafe, feb 22 2013
directed & edited by Patrick Kennelly
February 2010 it was…. Here's the Organ review from those days when we did that kind of thing…
GRANDE DUKE – Rolling base lines, instrumental tunes that amble along, smooth yet slightly discordant, slightly jazzy, slightly post rock, tracks that sound like gentle genre-crossing jams that groove, that touch on blues (in maybe a stoner kind of way). Essentially a three piece but they really come to life when the guests join in and make use of the framework Grande Duke have constructed –  free-form jazz guests embroidering the details with saxophones, trumpets, accordion and some kind post-rock come-and-join-in mellow type of orgy.. Spoken word bits too (and no, a post-rock orgy would not be good, all those spindly beards and chin stroking onlookers, no no no, get the thought out of my head…). Like this four track, didn't really sound like much until it really started to unwind and reveal itself. They're from Derby, they're on the old Fixit Kid label Fight Me and this is their debut EP, a fine fine progressive post-rock flavoured jazz beast that you need to let breathe, expand and reveal itself  – www.grandeduke.co.uk or www.myspace.com/grandeduke or www.myspace.com/fightmerecords
Absolutely no reason for NOT NINETEEN ANYMORE to be here tonight…