ORGAN THING OF THE DAY>>>> A whole bag load of things for a thing packed day where things arrive like London buses and things. What we got then? Well scroll down and see, we got QUADRILLES, we got some BAD GRAMMAR,
New QUADRILLES single out right now, came out this Monday, as a free download thing called Shirtsleeves. The rather understated London band are quietly making some rather beautifully refined musical moves. Quietly getting on with the considered business of releasing some rather fine tunes. Quadrilles are refreshing….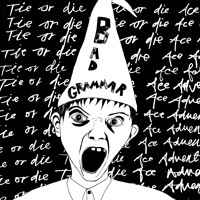 Meanwhile over in Manchester, BAD GRAMMAR have a debut single, Tie Or Die,  they claim it to be a "riffy fuzzy pop song". they're certainly spiky, you don't need words though, you got the tune right there, sounds good to these ears, a raw declaration of intent and a band to keep an ear and a fizzy eye on while you go about your business,  whatever your business is? I got filmed the other day, out painting in Vyner Street, the police, said it was their business to film people out on the street painting, wouldn't tell me anymore than that…   Never mind the art police, here's the Bad Grammar single or download or whatever it is, song, that's what it is, a new song……
Here's a video for them art police, wasn't me officer, it was an Australian called Zack spraying up clouds of paint, Zach Freshwater is your man, here's the evidence, bang to rights..stick him on a convict ship and send him to the other side of the world.
Mural produced on Hook Lane (Off Francis St), Northbridge, Perth, Western Australia 27th October, 2012-18th November, 2012. (Many delays due to bad weather).
And there really  is mo reason whatsoever for this being here today, other than the gloriously ridiculous outrageiousness of it all, who knows when they made it, it isn't new so move along, Shitwife will be along in  a second…
SHITWIFE? Yes indeed, before we go those DOUBLEDGE SCISSOR people have a tasty looking gig coming up on April 5th, at the Urban Bar, London (not this London. now this London on a Doubledge bill would be a rather good thing don't you think?)
..Here;s some Doubledge words on the matter… ..
"holy shit!! Another big night …
PSEUDO NIPPON – found out about these guys last year, their latest album "COLORAMA" is a total winner, so if you ain't, you should go and and check it out!! looking forward to having them play for us!!
MXLX – just one of many great projects from Matt Loveridge, pure noise, fuzzy and atmospheric at times, awfully painful and beautiful at others … all i can say is YES!!!! (Okay, so that link was not put there by those Doubledge people, those musical heathens wouldn't appreciate the perfect thing that is Parallels)
SHITWIFE – the brand spanking new project from LADYSCRAPER, featuring Henri Grimes (drummer from Shield Your Eyes) … we are so proud to have them play their debut show for us (all we can say here is YES!) …
CTCVN – a new band featuring ex-members of Cutthroat Convention and a few different drummers, for different occasions … they recently recorded in spain with tom close (spite house) … the album will be ready for this show!!
Ladyscraper and Henri Grimes (the drummer from Shield Your Eyes) new project. Live drums and gabba kicks a go go – "This is a demo from our first Jam" – they now have a name, they are Shitwife… bet they'd make crap husbands…
Here's some SHIELD YOUR EYES from  2010
And talking of Shield Your Eyes…  Feast on some MELT BANANA
Shield for Your Eyes, A Beast in the Well on Your Hand
That's it, out of here, ready to fly, more of this tomorrow, maybe, YES!