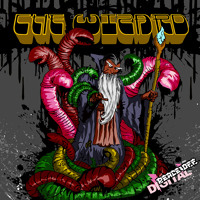 Things, no time for things, Organ was a thing of the last  century, you don't need our things now, can go find your own things now can't you?  What we got today? Teeth? We got LADYSCRAPER we got teeth, we are we are,,, we got… Have GUM TAKES TOOTH been off in their time machine to an Ullulators/Oroonies gig at Club Dog? Wherever they've been, they've just stuck this fine slice of earfood up, just like being in the Poodle Lounge
Meanwhile  more LADYSCRAPER, all cut'n paste with the help of a doubledge scissor or two..
"Just one month after his killer free album "The Witch" on Grindcore Karaoke, (available here: grindcorekaraoke.com/album/the-witch)   LADYSCRAPER, once again, beats hard With this perfect sonic collision of all-out ultra-fast broken beats, metal riff, and unpredictable percussion.  "THE WIZARD" is a brand new 11 tracks album, & as the previous one, all for free…"
Time machine? Wh oneeds a time machine….
Back in the Better Daze of tapes in had made covers sold by girls with ice cream trays at Club Dog like they'd have at half time at the cinema. All badly photocopied covers and such… proper diy
back around 1990 I should think …  The Oroonies Ripeness is All
Ooooo,  look what  we just found, that was one hell of a day down there at the Elephant and Castle avoiding the forces of law and order and bouncing in the rain to Ring, Ozrics, Ullulators, thousands of ranting political poets, anarchist punk bands who forget to tell us their names…
Ullulators at the Pullens Free Festival 25 August 1990
Ozric Tentacles at Pullens, 90? 91? after the rain and the stand off?
….