Back to being back to the fractured portal yet again (and again and again) and yeah, we did say all this last week and in the weeks before and while the whole world window that stares back at us while we cut and paste rather than writing another intro for you to just skip over on the way to the music. And so it doesn't reallty matter if it was a television fizzing and going off and things back then when we first heard of the Whole World Window – now the window is a fractured portal and we like the simple stuff. And we still never did find out about what happened to Norman Bluntz and his tie and jacket combinations, some say he went to the West Coat (or even the Coast) with Sid the Snitch, I like to imagine he got away with decking Chief Daniels in the end but we all know it doesn't work like that for the Normans of this world.
This five musical things thing is mostly about just that, five musical things that have passed by in the last few days, five soundbites, five slices of musical information along with those oh so vital vital links and signposts staring back and making that hissing noie. You do read all this right? You did read that bit about Bandcamp Friday last week? yeah right, two dollars?! is that all the thanks we get from you bands and labels with gold plated bath taps? Well it is up to almost rten dollars from you bands and labels now, almost ten. I might buy a tie like Norman's, oh look, here comes the electricity bill… I should go check last weeks typos or maybe proof-read this one buy hey, frankly you don't pay me enough to make me do the work.
1: Loraine James – "The first single from Loraine James' new album 'Reflection' is a solo introduction and a reset. It's a direct song called Simple Stuff vocalled directly and diaristically by Loraine, a minimal, gentle plea to be treated equally (as a black, queer woman) over criss-crossing drums. Loraine's vocals dissolve into distortion and fx's as if they are getting lost and then heard again". Reflection is Released on 4th June 2021 on Hyperdub
2: Whispering Sons have something or other coming out, an album, a single, a download or a virtual reality rea part or whatever it is bands release these days. Hang, see then circlingwhile I check so you don't have to, "Whispering Sons announce new album Several Others", there you go, all part of the caring sharing service we continue ot offer here while we hide from the man and his bills and the pigeons hunting seed. Whispering Sons are good, they kind like a hitchhiker you pick up wh ostarts off kind of okay and then you start t othink should I have picked this guy up? Yo'ure not reading any of this though, you won't read that the album is out on Play It Again Am in June and that this is a single, which probably means its a taste of the album and I can't go buy it from Wooworth next Thursday when they get the new stock of this week's seven inchers in. It sounds exactly like something or he sounds ecactly like someone I can't put a finger on. Like this one lots, stitch me up, liquids and dirt, hey look, I'll g ocopy the press releease and paste it under the video so we can all bluff about how we already knew
Today, Belgian five-piece Whispering Sons return with the announcement of their much-anticipated second album "Several Others". The news follows on the heels of their recent single "Surface, which was released as a limited edition 7″ and sold out of all 500 copies in half a day, as well as earning plaudits from a vast array of publications.

"Several Others" marks Whispering Sons first full-length release since their 2018 debut "Image", which saw them garner early support at press and radio as well as tallying up millions of streams for their dark and unique blend of experimental and frenetic post-punk. Similarly, prior to lockdown, their infamously ferocious live shows had also seen them begin to firmly cement themselves as a must-see live band playing alongside the likes of The Murder Capital, Patti Smith, The Soft Moon and Croatian Amor, as well as touring across the UK and Europe with the likes of Editors.

Alongside the news the band have also shared two new songs "Satantango" and "Surgery". Having retreated to the Ardennes last summer to work on the new material, the band took the strongest parts of their earlier work and refined them even further with a strong focus on their greatest strength – sheer, unpretentious intensity. The result of this work can be seen clearly in their latest singles. 

"Satantango" and "Surgery" see the band distil the ferocious post-punk aesthetics from which their sound first emerged and pushes them to the absolute limit. The tracks toy with the delicate balance between moments of fragility and their capability for relentless and driving intensity, experimenting at the point in which no wave, industrial and avant-punk converge. The anxious and propulsive instrumentation is eerily abstracted, whilst Fenne Kuppens' words, sung in a dramatic and distinctive low register, inject that extra central tension and darkness.
Fenne Kuppens began the words for Whispering Sons' fervent new album Several Others around one sentence she'd scribbled in a notebook: 'Always be someone else instead of yourself'. "It's terrible advice," she says, "But it resonated with me and my personal ambitions." She started writing about her uncompromising perfectionism that, although partly to thank for the band's remarkable success over the last five years, was beginning to become overwhelming. "I was at a stage where it was becoming unhealthy. You always think things have to be better, that you can always do more."
Whispering Sons have constantly outstripped their own expectations. With every momentous step forward that they take, they redraw the boundaries of what they consider possible then duly go beyond them yet again. "Every song we write is closer to the thing we really want to do. Without making compromises," Fenne says.
The band have evolved a great deal since they began in 2013 as the hobby of Kobe Lijnen, Sander Hermans, Lander Paesen and Sander Pelsmaekers in the small city of Leuven in Belgium's Flemish-speaking region. Friend of the band Tuur Vandeborne joined the line-up in 2017, relacing Paesen on bass. In search of a singer they asked Fenne, who at that point had been uploading covers of bands like Slowdive to Soundcloud. Already fostering that deep ambition, she rigorously prepared. "I'd always wanted to sing in a band, but I never had friends who made music, they weren't in my surroundings," she says. "They were talking about this post-punk thing that I'd never heard of before, so I had to read into it. I could see myself in it, I felt the music."
A quiet university town, Leuven and it's more mainstream music scene didn't connect with Fenne, but during a year studying abroad in Prague she plunged herself into that city's DIY culture and returned more galvanised than ever "I made friends there who did things with their lives! There was a guy who had a DIY record label and who made music, all from his bedroom. I thought, if they can do this, why can't we at least try?" As soon as she got back she relocated to Brussels, later joined by the rest of Whispering Sons, where they quickly began honing their craft to become remorseless live performers.
Fenne's distinctive vocal style emerged early on, inspired in part by artists like Xiu Xiu and Chinawoman who sing in emotionally intense lower registers. "I started to feel more comfortable on stage, to express myself more rather than just singing a song," she says. "I started feeling the music more, identifying more with the sounds and what I was doing." Her live performances became transfixing and trancelike, defined by edgy, compulsive movements. "People have said it looks like I'm fighting my demons onstage, I guess there's some truth in that."
"We did some recordings in the summer of 2015 and Fenne was really pushing us, saying 'We have to go for it, not just make another demo,'" says Kobe. The result was their dramatic, goth-influenced debut EP Endless Party. Just a few months after its release, they won one of the country's most prestigious music competitions, the Humo's Rock Rally. With the acclaim came bigger tours across Europe, and larger crowds. "People started to expect things from us. We had to adapt quickly."
Immediately Whispering Sons set new, more ambitious targets. While writing new material for the longer sets their increased status required, they soon grew tired of the limits of post-punk music and sought ways to push past them. "We wanted to evolve, we wanted to attract larger audiences and not just play in one scene," Kobe continues. For their debut album Image, released in 2018 they became more atmospheric, focusing more on the emotional power and dynamic playing of their live sets than the trappings of genre.
"We were very happy with Image, and at that point it was the best thing we could have made," says Fenne. "But from the moment we finished it we started to look at it in a critical way. 'This is something we should do again. This is something we don't like.' So very quickly we found the direction we wanted to go in for the next album."
Whispering Sons' career has been marked with a number of impressive strides forward, but none has been as huge as the one from Image to their new record Several Others. Where the former was theatrical and widescreen, this time around they focussed more on their greatest strength – sheer, unpretentious intensity. "We tried to create an album that's more direct and more dynamic. More in your face," says Fenne. The bracing '(I Leave You) Wounded', for example, began as an experiment to create the tensest song they could with the least amount of instrumentation. Opener 'Dead End' was initially written as a tension-ratcheting opener to a live setlist. Happy with the desolate, piano-led closer 'No Image' from their first album they recorded songs like the shuddering 'Screens'. For the sparse and elegant 'Aftermath' they returned to a track they'd written for their last record but couldn't do justice to without their new, more sophisticated palette.
Although it's coming up to a year since they last played a gig – they were the support for Editors on their European tour at the beginning of 2020 – the band haven't forgotten their power as performers. "Live, we try to be direct, and we wanted to translate it to this record. That's why it's a lot drier, more punchy, more in your face," Kobe says. Along with the record, they'll be releasing each single along with a corresponding live session, to be compiled and released as a live film along with the record which features visuals that centre on a recurring image of a woman dancing and slowly transforming into something inhuman, eventually leading to destruction and purification. It brings us back to the central intensity at the core of Whispering Sons; a constant, uncompromising drive for something more.

"Several Others" is out 18th June via [PIAS] – come on Sam, that's got to be worth an Alan Whicker or a lost and found or maybe a cock and hen, You don't get much change from a Cock and Hen for a pint of Pig's Ear in this Battle Cruiser, not that the battle cruisers are open these days….
.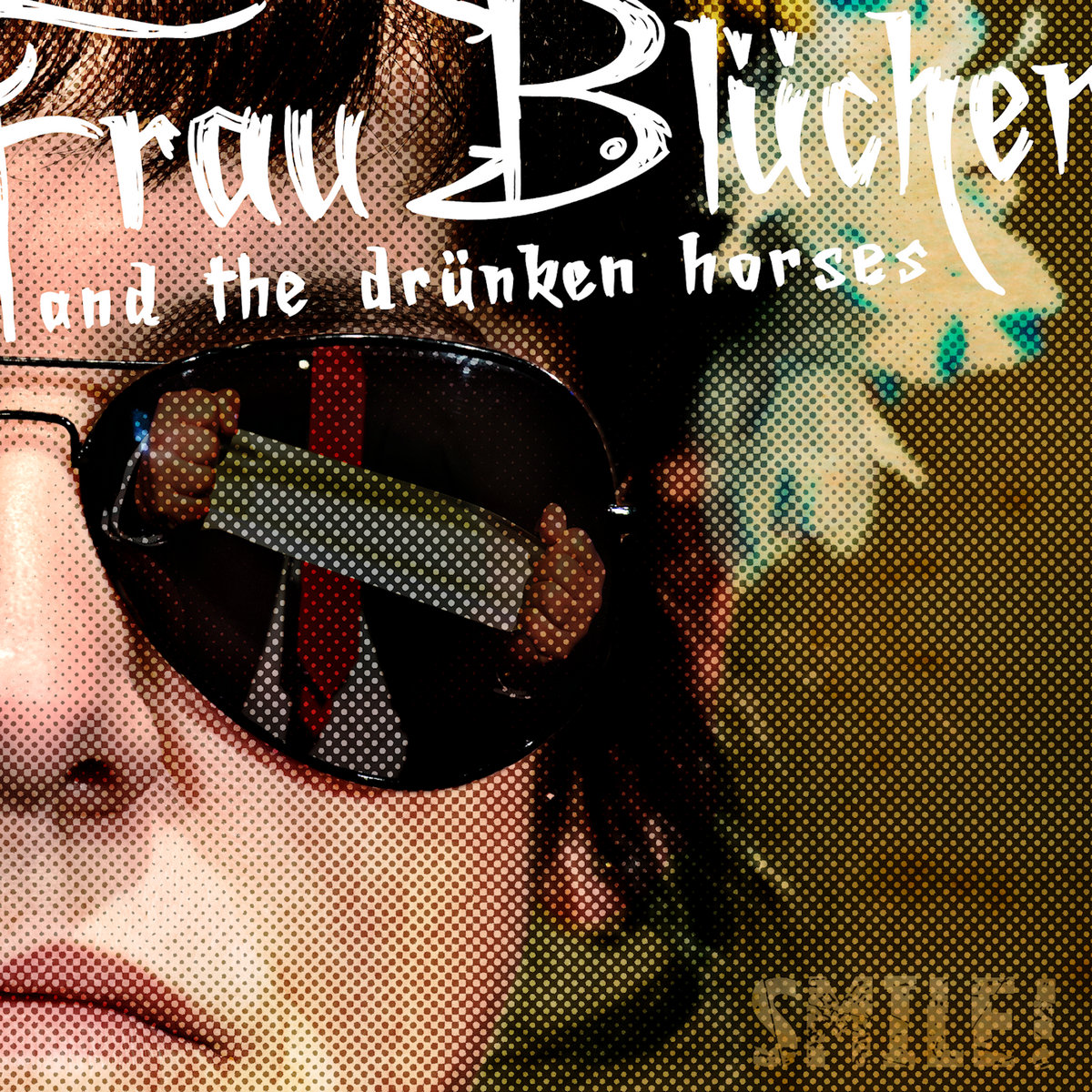 3: Frau Blücher and the Drünken Horses – First thing you probably need ot know is that Frau Blücher and the drünken horses are a female fronted Punk N Roll band from Brussels, Belgium. They have a new album – "Our new twelve-track album « Smile! » is available in limited edition dark green vinyl" so they say, and indeed here it is via the magic of Bandcamp. They sound raw, she sounds angry, the sound like a million old school punk bands wh ogrew up on Motorhead or the Plasmatics or oh hell, you don't need a list of bands, fire it up, if they move in next to you they'll probably kill your lawn. Three bands from Belgium on one page, Belgium Tom's Hattttttrick, bring on Mickey Moody, or maybe not, Bring on Frau, you better listen to what she's says, especially timely this week, no meaas no!
.
"Frau Blücher and the drünken horses are a female fronted Punk N Roll band from Brussels, Belgium.The band started in 2011 from what was initially meant to be a one-time jam.The band released four full-length albums made of original material only: "Quick & Dirty" (2013), "Lethal Pill Cocktail" (2014), "Über Fenomenal" (2017) ans "Smile!" (2020). Frau Blücher's songs are written in the vein of the 70's/80's Punk & Heavy Rock and inspired by the likes of the Ramones, L7, Motörhead, Vice Squad, Plasmatics and many others.The concerts of the Frau are direct, powerful, restless and highly participative! The band was chosen to open for UK Subs, The Addicts, The Vibrators, The Lords Of Altamont, Nashville Pussy and The BellRays among others.For the record, the name of the band is taken from a character in Mel Brooks' movie "Young Frankenstein", a woman who has a strange relationship with horses"
4: ILL – We are making a habit of having to catch up, better later than never, and ILL do need a mention, this is an album from 2018, but as we have said many time in the last few months, good music does not come with a sell-by date. This one jsut came our way via those Rebel Dykes, and hey come on, bad enough that we're late, but hey, if we ignored this then she'll be on our case…
.
"ILL is a genre-evading band which believes in the power of disobedient noise. With a repertoire of precarious pop songs and frequent improvised departures, ILL revel in the right to be weird, exploring the borders between the funny and the sinister, the personal and the political, the mundane and the surreal" so read the band's own Bandcamp biog,. "Grotty, wild, weird, frenzied music… fiercely political." so said The Guardian
Kick Him Out The Disco is a song about realising that it's not You, it's definitely Them. It's about standing up for yourself and giving your manipulative exes and incompetent overlords a glittered middle finger.
.
5: Eyerolls – Now this, depending on the time of day and if the pigeons are pecking at your state of mind or not, is either an excellent set of art slices or an annoying noise that demands you turn it off. I do keep going vack to it, I got through the whole thing and came out in one piece earlier today, I just tried again now and threw the whole thing out of the window, They're from Maryland, I don't know why you need to know that? give them at least four goes before you dismiss it., compulsion is a Bad Bad Bad Bad Bad Bad Bad Bad Bad Bad (Good) Idea But Who Has the Time Right I Mean These Days It's Like Pulling Teeth Even Getting the Donkey to the Dentist. Here's the Bandcamp, what did we do before Bandcamp and Twitter? Twitter is where Eyerolls came from, do you follo Organ on Twitter? is there a point?
.
And before this page is brought to a close, we do need to say R.I.P. Roger Trigaux He was, as someone else said and as we pointed out on the radio last Sunday, "a true innovator and the mastermind behind one of the best Avant/ R.I.O. bands Present".
And that was that, another bus load of music during these strange locked-down times. A big big thanks to anyone and everyone who has visited these pages, checked out the links, the music, the art, the exhibitions, the Cultivate on-line exhbitions, a big big thanks to all involved in the art shows or making the music we cover. And do let us just point out that everything here on these fractured Organ pages was done for free, all our time and effort and we just get so stupidly swamped in the week before this damn Bandcamp Friday, seems like every band and label in the world wants us to support something or other each month, you bands and labels are making a fortune out there every bandcamp Friday, "hey, tomorrow is Bandcamp Friday, we need to gold=plate our bathrtoom taps and we can't charge you a fortune to get into or gigs anymore and can you help s out with a plug please?" Hey, we for overdue rent as well you know, while you sell two hundred millions albums every Bandcamp Friday maybe…. Hell, at least back in the day we'd get Manic Street Preachers albums in the post that we could go flog at Cheapo Cheapo down in Soho to pay the bills, all we get these days is a link. We haven't got no box of money like Norm Buntz had stashed…
So if you do feel like making a small donation – We bring all this art, music and underculture to you for free, we really don't want to clutter up our pages with annoying adverts, no one wants that, but it does take up a lot of time, hours and hours of time. If you should feel like supporting Organ/Cultivate (for it is one in the same) by making a small donation to help keep all this flowing that would be delightful, thank you.
And while we're here, just one more episode, one last one, you can never have too much Mr Hammill, not only did he and Rikki invent punk rock, seems he also invented the tag back in 74….